Bachelor of Dietetics
OVERVIEW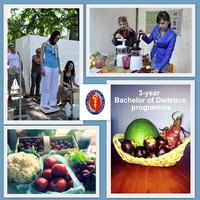 Dietetics
Candidates from all over the world have an opportunity to apply for the 3-year Bachelor of Dietetics Programme at the Medical University of Gdańsk. The extended curriculum is based on strict European and US standards and includes basic sciences (anatomy, physiology, pathology, genetics, biochemistry and biophysics, microbiology and parasitology, pharmacology), social sciences (psychology, sociology, public health, ethics), basic dietetic science (fundamentals of dietetics, health promotion, clinical nutrition) and specialist care (internal medicine, pediatrics, oncology, nephrology, surgery, rehabilitation, geriatrics).
Upon graduation from the Dietetics Programme, students receive a Bachelor Diploma in Dietetics. Graduate will implement health services, recognize dietetic needs and problems of the patient and their family, plan and provide the nutritional care of people in health and illness and to provide preventive, therapeutic and education services. The student will be prepared to develop individual dietary programs for people who are overweight or obese, for the elderly, children and patients with lifestyle diseases. Also, the graduate will be able to take nutritional care of patients fed enterally and parenterally. The graduate will be able to work in public and private health care facilities, food departments at various institutions and continue their studies at second degree studies in dietetics.
ADMISSION STEPS
Candidates interested in studies at the 3-year Bachelor of Dietetics programme (English Division) should:
Register on-line in electronic candidate database (available at: admission2016.mug.edu.pl).
Fill in on-line application form for 3-year Bachelor of Dietetics programme.
Submit a complete application package by regular mail to the Admissions Office at the Medical University of Gdańsk between 15th of February 2016 and 31st of August 2016.
Address:
Medical University of Gdańsk
University Admission Office
Al. Zwycięstwa 41-42
80-210 Gdansk
Poland
Candidates for 3-year Bachelor of Dietetics programme have to be at least High School graduates and hold High School Diploma with grades in biology (or health sciences), English and an additonal subject of their choice (either chemistry, physics or mathematics). The Admission Committee selects the candidates on the basis of their scores from High School Diploma in required subjects (given above) and optional score from an additional oral examination (Admission Committee's decision).

Documents required in admission process:
signed application form (printed from the electronic candidate database available at: admission2016.mug.edu.pl)
a copy of the High School Diploma (or its equivalent) in the candidate's native language certified by candidate's school or by a public notary
an English translation of the above original documents, translated and certificated by candidate's school or by a sworn translator (does not apply to documents in English or Polish)
a photocopy of the applicant's passport certified by a public notary
two recent (size 35mm-45mm) photographs (head uncovered) signed at the back
certificate confirming English language skills (optional).
Copies of documents may be certified as true copies by the Admission Officer if candidate submits the original documents in person for review.
Incomplete application packages will not be taken into the consideration!
Documents required after acceptance:
copy of agreement signed
document confirming payment of admission fee and orientation week fee.
FEE
Tuition fees and charges:
Orientation Week fee 3 000 PLN (or 2 000 PLN – applies only to students from Poland)
tuition fee for the first to third year of study 17 000 PLN per year
CONTACT DETAILS
To obtain more details, please phone or write to:
Anna Kiszka
Paulina Zwolińska
E-mail: admission@gumed.edu.pl
Ph./Fax: + 48 58 349 13 90